Is all this regulation for sustainability about to spell the end of Architecture? Sometimes, the protestations of architects sound like that is what they truly believe, in spite of the evidence that we are seeing ever more bizarre forms in the architectural blogosphere and the burgeoning design literature.
But there is a kernel of truth in the sentiment, especially as it applies to houses and other residential construction. In some jurisdictions, these building types are ever more constrained by prescriptive standards that dictate glazing ratios, wall and roof insulation standards, heat exchangers for mechanically assisted ventilation, and so on. Sometimes a voluntary standard like the European 'Passivhaus' movement, is even more restrictive than the government promoted regulations.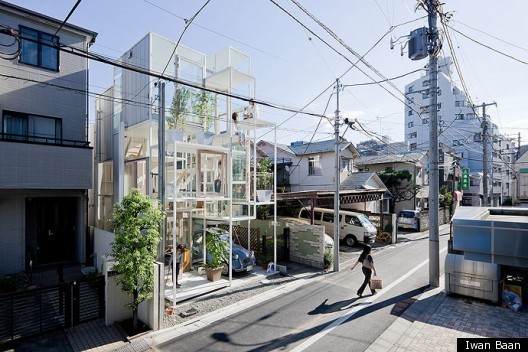 I was reminded of this when I saw photographs of a truly challenging suburban dwelling by
Sou Fujimoto Architects
, their House NA in Tokyo. Inspired by the feeling of sitting around in the branches of a tree, the assembly looks like scaffolding supporting a series of open and glazed boxes at different levels, with a program that clearly is not dictated by conventional room designations. For better or worse, it engages passionately in a theoretical and practical discourse on contemporary 'dwelling', but could not possibly obtain planning permission in my home town, Sydney.
As I looked further into Fujimoto's work, I saw other, similarly evocative speculations on living between inside and outside, such as the N House in Oita. Argued from a stance that questions the interpenetration of the space of the street and that of the innermost private sanctum, it is most plausibly an extended empirical exploration of the traditional Japanese understanding of 'ma', the 'space in between'. But as the photographs in its context make clear, it is also a selfishly self-referential exercise, where claims of its transparency simply do not disguise the degree to which it disrupts the public spatial order.
This house - even more than House NA - reminded me that by definition, 'Architecture with a capital A' depends on relegating the normal to being the background for the assertively non-conforming object. In that sense, our new enforced 'zero net energy vernacular' does indeed threaten every architect's right to produce something stridently different. Given just how many more architects we have nowadays, than we used to have, maybe that is a good thing. But I would indeed be saddened if it proved to be the end of remarkable buildings.