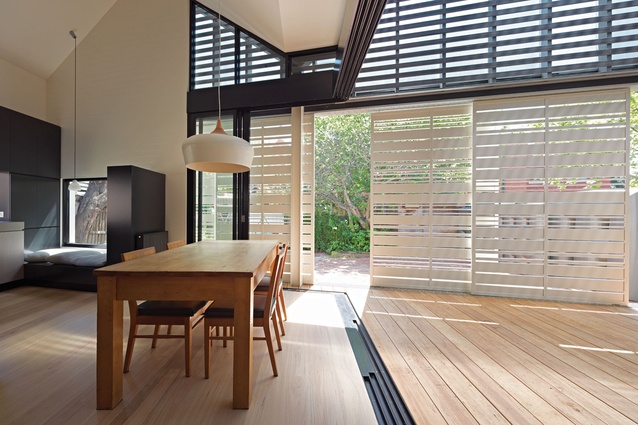 It might be to our national shame that Australians build the largest new homes in the world. And the public's perception might be that architect designed houses are no better, just more expensive. But an objective overview would also suggest that one of the things that Australian architects are best at are thoughtful and innovative houses – after all, our only Pritzker prizewinner Glenn Murcutt has built little else.
So it is always interesting to look at the annual
Houses Awards
. This year, I am particularly taken with the winner in the sustainability category, because of its headline claims. In my mind adaptive reuse, long life and loose fit, encouraging adaptive behaviour by occupants, etc. have always been the foundations of true sustainability in architecture. And those are the principles on which this year's winner makes its case.
House Reduction
, designed by Shelley Freeman and Melissa Bright of Make Architecture Studio is a fine example of what my friend Tone Wheeler has energetically promoted as 'Alterations and Subtractions' to counterpoint the more usual approach of making old homes much bigger by additions. The benefits of this alternative approach are quite well discussed in the review of the project in
Houses 85,
On a less positive note, it is always a shame that claims of improved sustainable performance are rarely backed up by access to performance data, even in award-winning houses. So here again, we have to take it on faith that those large new glass areas don't come with significantly increased heating bills, notwithstanding the reduction in the floor plan. I am not suggesting that they probably do, merely that architects and the architectural press are actually very poor at capturing that sort of information as part of a rigorous knowledge base. We are very good at the rhetoric, not so good at making room for the evidence.