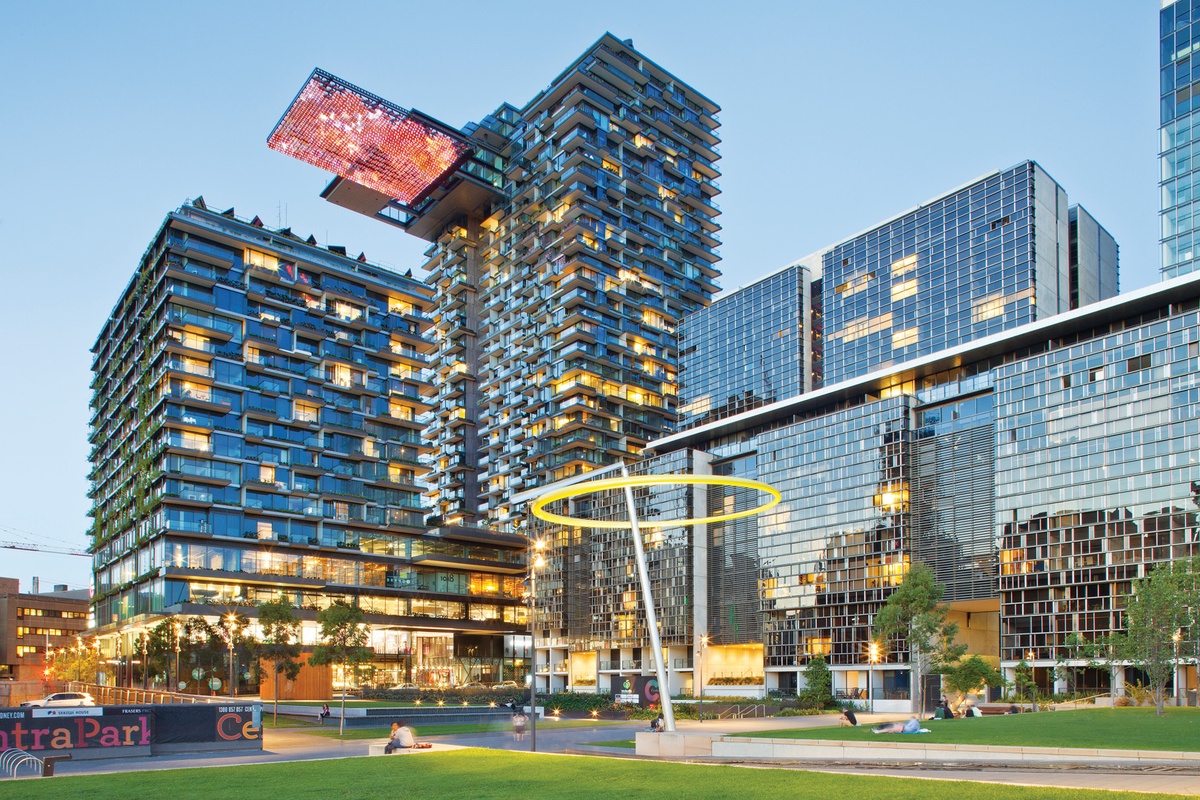 It is the piece of bling that keeps on giving. More than likely the heliostat and the very big green facade will continue to dominate the interest of architects in One Central Park, part of the inner Sydney redevelopment starring John Nouvel and Fosters, as well as a minor cast of local architectural firms. But as I was reminded by an article from
Almost no description of the first four years of urban design guidelines, design quality competition, design development and community consultation and negotiations with the city authorities can capture the sheer attrition of trying to realise a large brownfields infill development, experienced by the original proponents of the scheme.
I was involved at the time as a third party expert, verifying the methodology for establishing the likely compliance of the proposed residential units with Sydney's onerous requirements for winter solar access. So I can attest at first hand the frustrations of the architects and the developer. But I can also throw light on perhaps why the process was doomed.
I might be poorly informed about the conversations behind closed doors, but I am willing to bet what was really at stake. The city wanted a grander gift of public park, with better likely environmental amenity than what was being offered. And its planners and urban designers were probably not impressed that the multitude of smaller apartment buildings proposed for the site were likely to deliver only the targeted minimal compliance with a number of controls.
Eventually, the original owners walked away from the project. Manincor describes the next step as a "new master scheme by Foster and Partners with more bells and whistles – larger floor area, more open space, trigeneration and five green stars". In a sense, he is right to oversimplify, because what was indeed needed was an incisive reappraisal.
The original proposal of fragmented building volumes posed a wicked problem of mutual overshadowing, producing too many apartments at the lower levels with comparatively poor environmental quality. The easiest way to solve that issue always appeared to me to give away some of those residential uses for commercial space, which is not subject to the same solar access and natural ventilation requirements. But the original architects and developers resisted that path.
And that is exactly what Foster proposed, but with a typically greater panache. Consolidating the building volumes into much larger buildings – which breach the original project guidelines – had the potential not only to solve the problem I saw, but to present the new developer with an opportunity to ask the city to allow much more built space.
It would seem everyone was getting what they wanted, and perhaps what they didn't even say they wanted. In the case of the City, not only was it getting its bigger park, but also commercial space where it was running out of it, because developers generally are converting underperforming commercial buildings into residential.
Manincor is right.
Architects need to understand much more of the politics. But perhaps he doesn't put enough emphasis on what architects have to add in translating those politics into physical illusions.
Central Park, and its much bigger buildings than originally envisaged, reminds me of one of my favourite quotes. Harry Houdini famously said he could make an elephant disappear in a crowded room. When asked how, he replied: "By distracting you". While we concentrate on Nouvel's heliostat and Patrick Blanc's green walls, the developer got much bigger buildings, we got a bigger park, and we are all suitably entertained.
ArchitectureAU