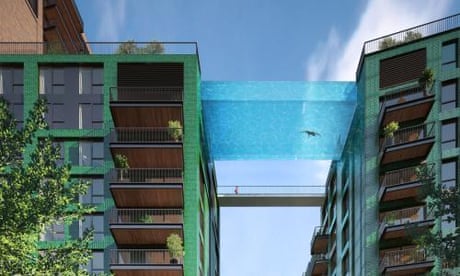 Sky pool. Sounds like an oxymoron, holding well over 600 tons of water up in the sky, especially when it's suggested that it will be done without a visible structure.
It is tempting to believe that floating a pool in the air is just a sales gimmick given life by photorealistic computer rendering, and that it won't be there when the building is actually built. But since Jean Nouvel managed to disguise a cantilevered pleasure garden as a heliostat, I'm ready to believe that this latest fairytale is the genuine expression of a megalomaniac developer's fantasy. A kind view in t
he Guardian
quotes Sean Mulryan, of Irish developer Ballymore:
"My vision for the sky pool stemmed from a desire to push the boundaries in the capability of construction and engineering . . . I wanted to do something that had never been done before."
I can sympathise with that. Without that kind of hubris, we wouldn't have had the Eiffel Tower, or for that matter, Neil Armstrong landing on the moon. Here, the 25-metre-long pool will be completely "structure free" and made of 20cm thick glass sheets, a proposition given credence only because it is d
esigned by engineering giant Arup Associates
with
Eckersley O'Callaghan
, plus aquarium specialists Reynolds.
But my suspension of disbelief is tempered by the pragmatism of Henry Pryor, a buying agent for wealthy clients. Pryor is reported as suggesting the plans for the pool were "genuinely crackers" and wondered "are there enough exhibitionists to fill it?" "It's not easy to say for sure what the extras like pools, tennis courts and home cinemas add to a home,"
he told the Guardian
. "But for the first time I can honestly say that, while my admiration for the architect is close to reverence, this absurd addition must surely be the biggest mistake I have ever come across."
That said, the substance of what this apparently absurd gesture is about is the real thrust of the article in
the Guardian
:
For the overseas investor who has it all, what better trophy to add to the portfolio of properties you will never visit than an apartment with its own 'sky pool'?
The article describes not only the £1bn
Embassy Gardens
scheme where views of the new US Embassy from the pool are trumpeted as a key selling point – the Guardian asks why you would want to suspend an all-glass bridge beside a building that believes itself to be at such risk of a terror attack that it cowers behind a 30-metre-deep bomb-blast zone? It goes on to list a series of other London projects with variations on the same theme.
Oh well, advertising in the sky was always effective, be it a vertical forest as an apology for the real forests we have cut down, a compensation for the sunshine we have cut out, or for ostentatious wealth. For architects and engineers it does bring a little excitement to their lives.
Read: